Welcome to the world of Bluegrass Banjo - Absolutely Free!
(But you can buy them as well...if you want them ad-free and all on your own computer...)
First 30 Lessons now available for Instant Download - Just $US27 - in HD and Advertisement free.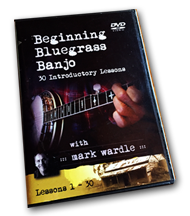 This series of entirely free lessons is designed for the newcomer to bluegrass banjo. Complete beginners can start at Lesson 01 and move on from there.
These lessons and exercises are designed deliberately to be simple and easy to accomplish. They should give the beginner a good sense of accomplishment with a little application and practice. They are probably best followed in order if you are a real beginner. There are some more challenging arrangements and tunes in the later lessons.
Whilst all these lessons are available free here on this web site you can...
Purchase all of the First 30 lessons via PayPal - instantly available for download - Ad free and in HD!
Buy the Lessons 1 to 30 now using Paypal for only $US27 and download the videos and printable (.pdf) tablature straight away - no waiting!
You will need a broadband connection as the files are all of the order of 100mb or so each.
If you don't have a Paypal account - you can use your credit card...
Instructions - Read this before you buy!!
Once payment is made you will be directed to the download page - the Paypal instructions will say "Return to Ginkgo Media" (which is my business name) or "Return to Merchant" - Don't be alarmed! Follow this link and it will take to to the download address. You can then download or just save the video and tablature files to your computer straight away.
The lessons are available for free on line, or can be purchased ad-free and in full HD in three different formats. I will mail them to you via snail mail - See below...
:: LOOKING FOR A GIFT?
:: CAN'T ALWAYS GET ONLINE?
:: NEED TO SEE THE TAB MORE CLEARLY?
:: Buy the first 30 lessons in HD .mp4 format on a data DVD ($US33) 0r USB data stick ($US40) which includes postage and packing. That's less than $2 per lesson!
:: Now available as a video DVD - The perfect gift for the new banjo player in your life! - ($US42)
For those looking for a gift, or who can't always get on line to view lessons. Here is a great way to learn banjo by playing Mark's video lessons on any Windows or Mac computer. All of the first 30 lessons are included on the data stick as well as printable tablature. The lessons come mounted on high quality backing board which includes the contents (shown below) and make an excellent gift.
Use the 'Buy Now' button below to purchase using PayPal, or email me with any enquiries - markwardle4@gmail.com
Purchase the USB Data Stick ($US40)
Purchase the Data DVD ($US33)
Purchase the Video DVD ($US42)