Tales From Banjo Land
July 2009
In 2009 I went to the USA for the first time in over 30 years. I'd always wanted to go there again (I was there in 1978) and explore the music that had inspired me to play banjo. In that Trip I visited Los Angeles and the South West with my daughter and son. We had a fantastic time out on the old Route 66. Going from West to East was like singing the 'Kicks on Route 66' song backwards... San Bernadino, Barstow, Kingman, Flagstaff Arizona, Winona...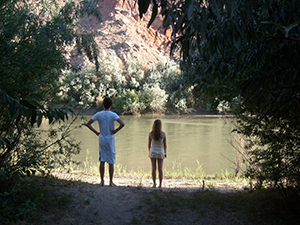 We travelled from Flagstaff out past the Grand Canyon, along Monument Valley to Bluff in Utah.
Travelling South East we arrived at the beautifully artful city of Santa Fe where we stayed a couple of days.
Then on north to Colorado where we got to go to my first 'Rockygrass'. We camped at Meadow Park in Lyons CO for the week and had a great time jamming with new found friends in the lead up to the festival.
I'd listened to recordings of Rockygrass festivals for many years, so it was very exciting to be able to hear first hand many of my favourite artists - Del McCoury, Sam Bush, Peter Rowan, Hot Rize - and for my first (and last) time an ageing Earl Scruggs.